Accepting Transfers with JSON Links and Files
Accepting Transfers in Cultivera POS Back Office Using the WCIA JSON Transfer Link/File
Due to the recent transition away from Leaf Data by the WSLCB on 12/18/2021, licensees will no longer have a "Live Sync" for inventory transfers and retailers will be responsible for entering data manually upon its arrival. However, the WCIA (Washington Cannabis Integrators Alliance) has formed in order to create a working solution for data transfers between licensees without time consuming manual data entry. You can now utilize a JSON transfer link or file in order to exchange data and cut down on time entering details such as products received, unit cost, quantity, barcodes and QA results. This is NOT a Washington State compliance requirement, but is recommended to users who wish to expedite data entry and accuracy. This article will detail steps to use the WCIA Transfer Link within the Cultivera POS Back Office.
Navigate to the Inventory Management > Transfers In page and click the "Import From WCIA JSON File" button:

Paste the link provided by the sender or upload the JSON file by clicking "Select a File", then click the "Import Transfer" button.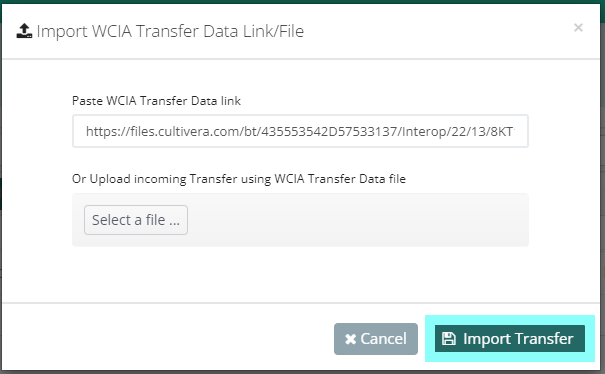 The transfer will now appear as pending. Click the teal Transfer # link or the "Details" button to view the transfer details.

From the Inbound Transfer Details page you should now see each product, unit price, quantity and barcode information displayed.

Assign each item to it's corresponding product, and click the "Complete Transfer" button.

If you're not using the WCIA Transfer link, here's a guide on how to input a transfer manually.
---
---